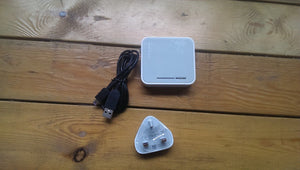 TP-Link TL-MR3020 150 Mbps 1-Port 10/100 Wireless N Portable Travel Router UK Ship
Regular price $24.00 $12.00 Sale
used, may have some scratches, come with UK 3 pin plug
used, may have some scratches, come with UK 3 pin plug 
Product Information

For a 3G/4G Wi-Fi solution that improves productivity and enhances entertainment, the TP-Link TL-MR3020 Wireless N Router delivers an exceptional wireless experience. This stylish and ultra-compact device is even light enough to carry on business trips or excursions. Wherever 3G/4G service is available, you can easily establish a reliable hotspot that lets you access the Internet at speeds of up to 150 megabits per second. What's more, this travel router enables you to wirelessly share your mobile connection with family and friends. In today's technologically-driven world, connecting to the Internet on a daily basis has become a way of life for most people. If you are constantly traveling or working in a remote site, the TP-Link TL-MR3020 offers a portable and convenient solution for you to get instant access to the Internet. Just hook it up with a compatible universal serial bus (USB) modem and create a Wi-Fi zone for your devices to connect to in a matter of minutes. Whether you are riding on a train, staying in a hotel or within range of a 3G/4G signal you will get online, to surf the Web quickly and hassle-free, with the TL-MR3020. This TP-Link offers you great versatility with its built-in multifunctional capabilities. Based on your Internet connectivity needs, you have the option to choose which of the three working modes best fits your current situation. Use the switch located on the side of the unit to select between 3G/4G router, travel or wireless Internet service provider (WISP), and client modes. Travel mode enables you to set up Internet connection using wired Ethernet jacks commonly found in hotels. Switching to router mode lets you share your online access to mobile devices, including Android smartphones, iPads, iTouches and Kindles. WISP mode gets you access to an existing Wi-Fi network, without the need to install hardware or download any software. Configuring the settings of any of these three modes is easy and can be performed via a browser. For enhanced quality of service (QoS), the TP-Link TL-MR3020 comes with the Internet protocol (IP)-based, bandwidth control feature. You can easily monitor and manage the bandwidth distribution in your wireless system. This unit enables you allocate a specific bandwidth to certain devices to prevent congestion and ensure networking performance remains optimum. Along with sophisticated QoS, this portable wireless router is also packed with security features to keep you protected while connected to the Internet. It comes with a one-push button security functionality, using the Wi-Fi protected setup (WPS2) standard. Just press the WPS button and it automatically initiates a Wi-Fi protected access encryption process. Compared to wired equivalent privacy encryptions present in some routers, WPA2 offers you improved security. Plus, it saves all your login details the first time and you will not have to enter your password the next time you connect to your network. For a steady power supply, just connect this device to a computer, or power adapter, using the embedded Mini-USB port. To quickly deploy the unit, follow the on-screen prompts of the router's quick installation wizard and you can have a working set-up in no time. With its high compatibility with most standard USB modems, the TP-Link TL-MR3020 router is invaluable for when you need Internet while on the go.

Product Identifiers

Brand
TP-Link
Model
TL-MR3020
UPC
6935364051709, 711212198026, 845973051709

Key Features

Wireless Technology
Wireless N
Wireless Speed
150 Mbps
Port Speed
10/100
Built in Modem
Yes
Connectivity
Wired & Wireless
Router Functionalities
Firewall
Port Qty
1-port Built-In Switch
Antenna Type
Internal / Integrated Antenna x 1

Interfaces

LAN Interfaces
10/100 Base-T
WAN Interfaces
1 x 10/100 Base-T
Networking Interfaces
Wired-Ethernet (RJ-45), Wireless-Wi-Fi 802.11n
Additional Interfaces
1 x USB

Standards

WLAN Standards
IEEE 802.11b, IEEE 802.11g, IEEE 802.11n

Protocols

General Protocols
DHCP
Remote Management Protocols
UPnP

Firewall / VPN

Firewall Features
DoS Prevention, MAC Address Filtering
VPN Encryption
WPA

Wireless

802.11b Data Rates
11 Mbps, 5.5 Mbps, 2 Mbps, 1 Mbps
802.11g Data Rates
54 Mbps, 48 Mbps, 36 Mbps, 24 Mbps, 28 Mbps, 12 Mbps, 9 Mbps, 6 Mbps, 5.5 Mbps, 2 Mbps, 1 Mbps
Max Transfer Rate
153.6Mbps
Modulation
16QAM, 64QAM, BPSK, CCK, DBPSK, DQPSK, DSSS, OFDM, QPSK
Security
WEP 128-bit, WEP 64-bit, WPA - PSK, WPA2-PSK, Wireless MAC Address Filtering
WEP Encryption Length
128 bit, 40 bit (=64 bit)

Networking

Networking Interfaces
Wired-Ethernet (RJ-45), Wireless-Wi-Fi 802.11n

Other Features

Additional Features
DMZ Support, UPnP Certified

Dimensions

Height
0.9 in.
Width
2.9 in.
Depth
2.6 in.